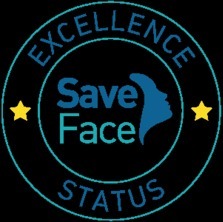 05 September

River Aesthetics has reached Excellence status

We are proud to announce that we have been awarded Save Face Excellence Status
Save Face provide an impartial accreditation scheme for medical professionals who provide non-surgical cosmetic treatments in the UK.
Their recognition of our excellent service is based completely on patient testimonials and reviews.
So thank you for taking the time to write them and allow us to achieve this.
Why Save Face?
We think anyone considering having a non-surgical treatment should be fully informed so that they are empowered to make the right decisions.
Selecting a safe practitioner can be extremely challenging.
In an industry that is inadequately regulated and unaccountable, many people are only influenced by price – or they are pressured into having treatments with time-limited deals and discounts that can ultimately leave them feeling regretful and disappointed.
When choosing to have a non-surgical cosmetic procedure, selecting the right practitioner is vital!
Save Face provides a safe, impartial and accessible service to ensure that when you choose to have a treatment, selecting a practitioner is safe and easy.
They have risen to the challenge and have launched a centralised register that enables you to search, compare and rate Save Face Accredited practitioners and premises.
This gives you the peace of mind of knowing that they have all been individually assessed on-site against a stringent set of standards by a Save Face Clinical Assessor.
Client testimonial – the River Lift
I am 68 years old and in very good physical shape but I felt my face let me down. I have a thin face and the sagging made me look tired and unwell.
I had a combo thread lift of PDOs and Silhouettes at River Aesthetics in Harley Street, London.
My jowls were lifted, as were the lines between my nose and the corners of my mouth. Fullness was restored to my cheeks and my mouth no longer turned down at the corners. I can't say it was painless but it was manageable and the discomfort decreased over a week or so.
Dr Victoria and Dr Charlotte made the procedure very manageable and the result was immediate.
Two friends commented that looked different when I saw them a fortnight after the procedure (though I had not told anyone) and I felt a million dollars!
The benefits from the procedure will continue for several months to reach their optimum effect, and I am really happy that I had it done.