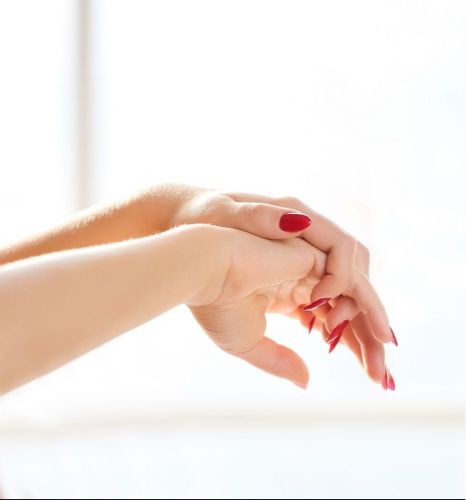 29 January

Don't Neglect Your Hands

Hands are often neglected. The hand represents one of the most important functional parts of the human body. We frequently see patients pay attention to their face, but who tend to neglect other parts of their body; notably the hands, which really can give away our age.

Owing to our increasingly holistic approach, the demand for hand rejuvenation has significantly risen over the past two years. Ageing to the hands is becoming of considerable importance to our patients.

Hand ageing is characterised by skin and fatty tissue volume loss resulting in wrinkle formation. Ageing is also associated with increased visibility of tendons and veins as well as age spots, textural roughness, loss of elasticity, and epidermal, dermal, and subcutaneous thinning, which can lead to a crepey like appearance. So what happens?

All of these changes can result in the prominence of the underlying bones, tendons, and wrinkles as well as intermetacarpal depressions, visible veins, and fragility.

In comparison, youthful hands appear plump and firm and the skin maintains its elasticity and smoothness. Carruthers et al published a validated grading scale for assessment of the ageing hand. (See fig 1[1])
[1] Carruthers A, Carruthers J, Hardas B, et al. A validated hand grading scale. Dermatol Surg. 2008;34(suppl 2):S179-S183.
Hand rejuvenation is becoming increasingly popular, with dermal fillers volumising and smoothing the skin, encouraging the production of collagen to provide a youthful look and successfully reversing this three-dimensional process.
The quantity and quality of collagen and elastin decrease in the dermis, resulting in skin laxity and thinning. In the deeper planes, shrinkage of the subcutaneous fat causes underlying tendons and bony metacarpals to become visible.
There are a few main causal factors that can make your hands age faster.
The speed and extent of the changes varies with the individual patient's genetics. The progression can also be influenced by factors such as smoking and alcohol abuse, photodamage, overwork, and toxin exposure.
Our go to product for this treatment is Ellansé, which enables us to restore the 3-dimensional aspect of the hand.
Ellansé can be used over the face, décolleté, neck and hands. Only small amounts are needed to achieve correction. Normally a single ml in each had is sufficient.
Ellansé is an exciting innovation belonging to a new generation of collagen stimulators which provides immediate and sustained correction by volumisation through biostimulation, which initiates long-lasting effects of different durations from 1 to 4 years.