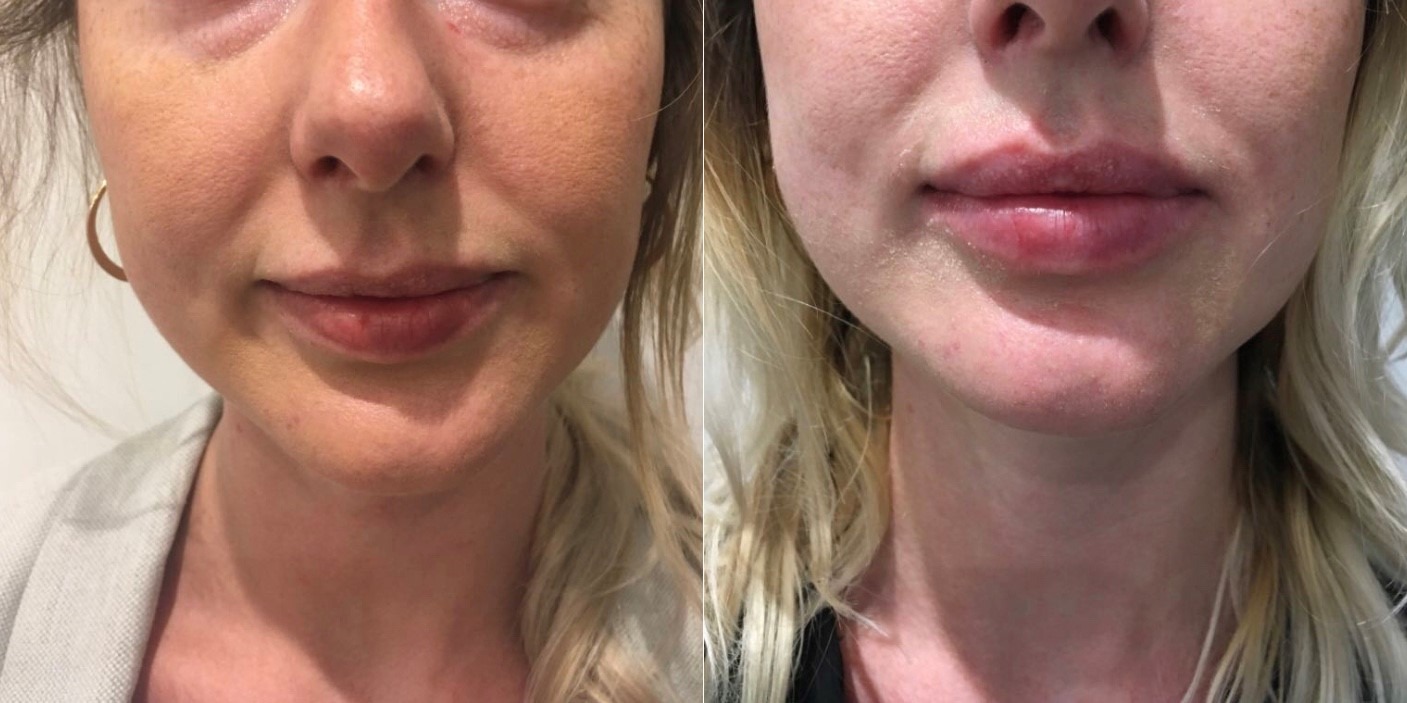 25 September

The River Lip Experience: Patient Testimonial

I'm 29 and I've had lip fillers 5 or 6 times. My first time was with a big chain cosmetic surgery clinic who I shan't name. The practitioner used a needle (common practice a few years ago), took almost an hour to inject half a ml, and left me with considerable bruising. It put me off for a while, until a friend from the New Forest recommended a local dental nurse who was offering a low price for 1ml. She was very professional, but she used needles too, which were painful, and carry a higher risk (unbeknownst to me at the time). Later, when living in London, I went to another big-name clinic – here I experienced the much safer cannula injection for the first time, but I suspect they may have overdone the anaesthetic, because I was left unable to feel my face or speak properly for the rest of the day (not ideal when you have a first date lined up for the evening).

I have small features and a pointy cupid's bow. Despite the upheaval I'd experienced, I was still determined to find the perfect practitioner, because that extra bit of volume gives definition to my face and an oh-so-worth-it boost to my confidence. This is where River Aesthetics came in.

The Clinic

There's a reason I refer to it as an experience, as that's what it felt like – much more than a flying visit. The clinic itself is gorgeous – smart, stylish, but with a distinctly un-clinical warmth and welcoming staff. It's located in a discreet, quiet location behind Bournemouth high street – ideal for avoiding friends, paparazzi, and randoms you went to school with (or, like me, a local ex).

The Procedure

The first thing that I received upon entering the treatment room was a generous slathering of numbing cream. This was to prepare my nerve endings for the treatment and for the anesthetic itself. The anaesthetic jab is always the bit I dread most about the dentist, and it's no different with cosmetic treatments. But there are no more jabs once it's done, because River Aesthetics use a cannula to feed the filler in, rather than multiple needle injections. So you have a second of pain each side, and then you can relax (ish).

I was positioned on a comfy table and the application of the filler itself began. The feeling of the cannula being inserted is unusual, but bearable. The bulk of the application was done with almost lightening speed, and then the last bit of filler was applied to my cupid's bow with a very tiny needle. This is the artful bit, which allowed Dr Manning to use her discretion to build on my natural shape. The two needle injections were a touch painful, like a mild bee sting. But Dr Manning's deft hand and years of experience meant the whole thing was done in under 15 minutes – a major advantage in choosing a doctor over a technician, and fantastic for the time-poor.

Immediately After

The speed and minimal invasiveness of the procedure meant I was quite literally in and out within a lunch break. There was none of the bruising I'd experienced elsewhere following my appointment at River, and even swelling wasn't too noticeable. No questions asked, no raised eyebrows back at work.

The only thing you need to avoid is too much direct sunlight, working out (no problem) and applying lipstick. The anaesthetic had all but worn off by the time I got in my car (no last-minute date cancellation this time), and by the time dinner came around, most of the swelling had gone down.

It was the speediest filler appointment I've had, and by far the most comfortable.

 

Post-Treatment Observations

I did experience a bit of stiffness afterwards, especially at the sides. Perhaps a better way of describing it is a light ache, which was more noticeable when I smiled or laughed. It was gone by the next day.

Luckily for me, I experienced no bruising, except for a tiny pinprick bruise on each side where the cannula went in (conveniently hidden by a tiny bit of concealer applied with a sterilised brush).

I'd read up on the risk of bruising before my appointment, but exact figures were hard to find – some studies suggest it occurs in 25% of people. A purely anecdotal point – but because I'd bruised quite considerably with other practitioners and not with Dr Manning, I suspect technique has a role to play. Some people may be more prone to bruising than others, but a skilled hand should keep it to a minimum.

Aesthetically, my lips looked full and healthy, without looking unnatural. The original shape of my lips was completely unchanged, but with more structure and volume. Still me, but an enhanced version!

The Follow Up

One extra special advantage I've not come across at other clinics is the very lovely HydraFacial follow up I received as standard at my two-week check in. Along with taking 'after' pictures, Dr Manning used an amazing piece of suction technology to cleanse, exfoliate and banish dead skin cells from my lips while also pumping them full of antioxidants, hydration, and hyaluronic acid (the base ingredient of the fillers themselves). It was a fantastic refresh following the settlement of the fillers, and was really quite enjoyable, in a strange sort of way!

Evaluation

I'd have zero hesitation returning to Dr Manning and River for my next appointment. The quality of care, skill of application and bonus follow-up treatment set this place far above other cosmetics clinics I've experienced. Fantastic for those looking for enhancements that are so skillfully and professionally done, others won't be able to guess you've had them.