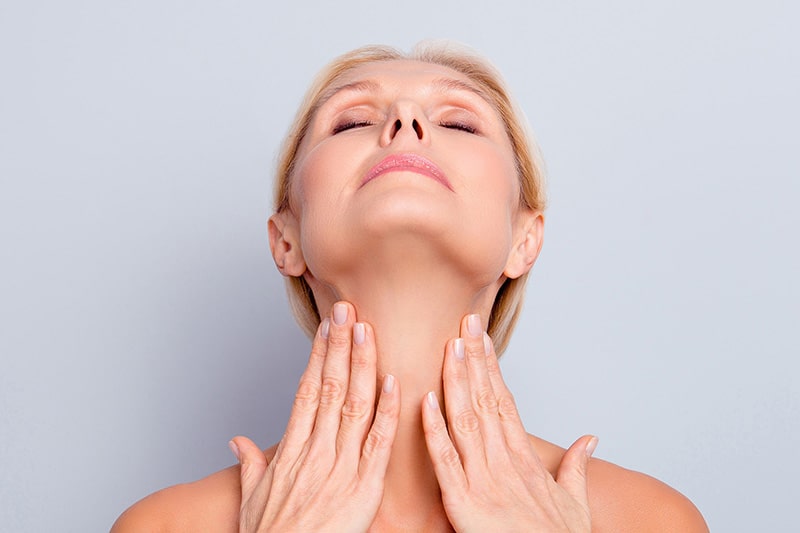 08 January

Neck Rejuvenation

In the words of Nora Ephron 'I feel bad about my neck', there was never a truer word spoken! Especially now where we are back to daily Zoom calls and seeing ourselves on screen every day.

They say that the neck can 'give someone's age away'. You can have the most beautiful, youthful skin on your face, but the condition of your neck can give the game away…… You don't want a line-free, rejuvenated face with a severely aged neck.

There are steps you can take in preventing and addressing neck wrinkles and sagging – also known as the dreaded 'turkey neck' – from skincare to aesthetic procedures and treatments.
Why Does My Neck Age?
The dermis (the layer within the skin that contains collagen) is very thin in the neck, making it more prone to ageing compared to other parts of the body. A lack of sunscreen application may be to blame as well. Generally, we are all great at applying SPF to our faces, but can you honestly say you apply your SPF to your neck on a daily basis too…?! It's an area that often gets forgotten about (until we notice the signs of ageing!). Cumulative sun exposure over a lifetime has always been the main culprit of premature ageing on the neck. The skin is the largest organ in our body and acts as a natural waterproof insulation, protecting us from damaging sunlight and other elements that accelerate ageing.
As we age, we lose collagen at the rate of 1.5% per year from our early 20s, accelerated at the time of menopause. This loss results in wrinkles, fine lines, dry, blemished and thinning skin. The skin on our neck is very thin and it can often show signs of ageing sooner than other parts of the body. In addition to the turkey neck appearance we develop, caused by the hypertrophy of our platysmal bands ( the strappy neck muscles).
Not only that, but our mobile phones aren't helping either. Between sun exposure and the addition of looking at our phones repeatedly, we are seeing neck changes even earlier. Dark spots, hyperpigmentation and other signs of premature ageing can be caused by the radiation that our phones give off. Mobile phones emit radiation shown in mice models that can cause oxidative stress to the skin structures.
So Many Options… Which One Is The Right Treatment For Me?
As with all treatments, the consultation is an imperative part of any procedure and during this time, you will be able to discuss which treatment might be best suited to you. In many cases, a combination approach may be best. It might be that the neck needs to be treated with anti-ageing injections first to relax the muscles and can be followed with a product like Ellanse to rejuvenate the appearance.
What Should I Expect From Treatments?
You can expect a fast, efficient and safe procedure. Whether you have dermal fillers, collagen stimulators, or an anti-wrinkle treatment, you can have your treatment done in a quick office visit that can even be performed over your lunch hour.
The longevity of results will vary depending on which treatment you have had. In general, however, dermal fillers can produce results which will last anywhere between 9 – 18 months and require periodic touch-ups, while collagen stimulators can produce results that can last much longer while producing results much more slowly.
Treatment with Botox can produce results which will last anywhere between 3-6 months. More superficial injections such as Profhilo will generally require a course of treatment and more regular top-ups.

How Can We Help?
Like any signs of ageing, the long-term goal when reversing sagging is to improve skin laxity and increase collagen production.  
When considering neck rejuvenation, there are a few treatment options that can restore lost volume, rejuvenate the skin, and maintain a youthful neck. The best treatment options will be determined by your concern and will be discussed fully during your consultation, and often combination treatments work best.:
The BTL EXILIS Ultra 360™ uses monopolar radio frequency which stimulates the fibroblasts to produce more collagen and elastin, this tightens the skin for a more lifted and contoured appearance. This is also perfect before any other collagen stimulating treatments for example threads and fillers to optimise results. In our experience starting your treatment journey with a course of Exilis really improves the final outcome.

 

A course of 4 treatments is required spaced at weekly intervals.
Ellanse: Our favourite Collagen Stimulator – This is injected in a similar way to dermal fillers to treat fine lines and wrinkles, but you get the added benefit of triggering the body's natural collagen production. This can have a beneficial effect on the appearance and density of the skin.
Profhilo: This will improve the appearance of thin, crepey skin and will also gently trigger the body's collagen production. This works by a process of bioremodeling and is an innovative approach to anti-ageing which improves skin laxity in traditionally difficult-to-treat areas.

Anti-wrinkle injections (Nefertiti lift): By injecting small amounts of anti-wrinkle product into the platysmal bands which are the depressors of the lower face, the downward pull of these muscles can be reduced by relaxing them and therefore create a subtle lifting effect.
RiverLIFT: For tightening lax skin, threads can also be inserted into the neck tissue to reposition tissue and stimulate further collagen production. We use various thread types depending on the skin condition.
Book a Consultation
If you are interested in rejuvenating your neck, please get in touch to book your Consultation with us. You can contact us on 01202 024060.