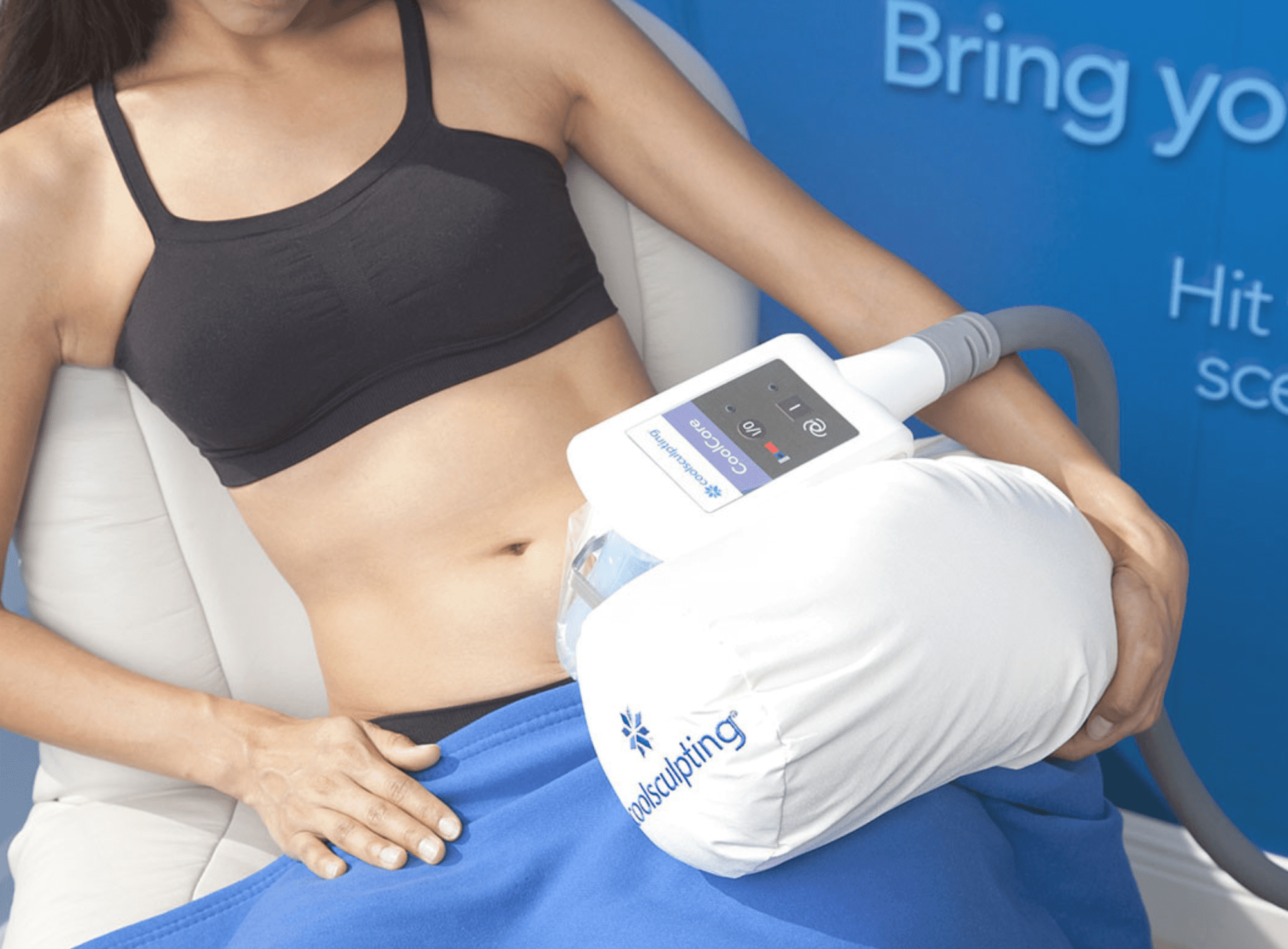 08 November

CoolSculpting & Fat Freezing – The facts behind the side effects!

CoolSculpting® is a very popular treatment. In fact, it's a fantastic way to target those stubborn areas of body fat and banish them for good! But you may also have recently read a lot about it in the press, specifically about a certain famous 90's supermodel suffering an unfortunate and rare side effect, so we wanted to talk you through the reality of the treatment, how it works and what you really should expect afterwards.

What is Coolsculpting® and how does it work?

The CoolSculpting treatment, more technically known as cryolipolysis, works when fat cells are cooled to near freezing point. At this temperature around 27% of these cells die and these are then naturally dispersed and disposed of by your body over the following few weeks and months, giving a slimming and contouring effect to the treated area.

What happens during treatment?

Your treatment will begin with your practitioner discussing with you your desired treatment areas in a thorough consultation. Once a treatment plan has been created for you, our friendly Reception Team will book in your course of treatment. On the day of your treatment, you will be shown to our private CoolSculpting Room where you will be marked up by your practitioner ahead of the treatment.  We want our patients to feel as comfortable as possible, so you will be provided with one of our soft towelling robes and offered a hot or cold refreshment as well as access to an array of TV Boxsets and Movies to watch during the treatment.  Treatment time can be anything between 2 – 4.5 hours in one session.  Your practitioner will cleanse and prep the skin and apply the relevant applicator to the body which is when the vacuum will then be activated- this will provide a seal between the treatment area and the applicator. Once we have established a comfortable position and secured the applicator in place, we can start the cooling process which will be 35 or 45 minutes.   e more common side effects are usually just slight bruising to area, which lasts around a week.

What happens after your treatment?

Once your treatment cycle has completed, the applicator will be removed, and the treatment area will be massaged which helps to improve circulation and the efficacy of the treatment.  Side effects can include nausea, numbness, redness, swelling, mild bruising (we recommend taking Arnica Supplements from 3 days prior to treatment to aid people who bruise easily) and some soreness.  These effects can last anywhere between 4 days with numbness lasting several weeks.  This is completely normal and the body responding to the treatment.  Patients are provided with a detailed Aftercare Information Guide and a Goody Bag for patients who have 4 or more cycles which includes a Luxury Hot Water Bottle, a Low-Calorie Popcorn, Pain Relief and a Skinade Collagen Drink sample.  We will contact you 5 days post treatment to see how you are feeling and then arrange for a Review in Clinic 3 months post treatment where you will see your before and after results.

Where can you use Coolsculpting ®?
Submental (Under the chin)
Axillary Puff
Male Chest
Upper Arm (Bingo Wings)
Back/ Flanks
Hips
Abdomen
Banana Roll (Just below the buttocks)
Inner and Outer Thigh
Above the knee
Is CoolSculpting ® safe?
At River Aesthetics, we use CoolSculpting® which is the only fat freezing system which has been approved by the FDA and it is endorsed and proven in over 70 medical papers, so we are confident in the results that it delivers.
There are cheaper devices available in the market, which claim to deliver results, but these aren't proven, and they are also not regulated in the same way, meaning a greater safety risk during and after treatment.
What are the risks?
As with most medical treatments, there are potential side effects. As mentioned earlier, the common side effects include bruising and a little numbness, which gradually subside. Before treatment, your practitioner will talk you through everything to ensure you are comfortable.
What is Paradoxical Adipose Hyperplasia?
There has been increased presence in the Press regarding CoolSculpting and Paradoxical Adipose Hyperplasia (PAH). There is a risk of 0.0051% of those treated developing a very rare side effect called PAH (paradoxical adipose hyperplasia). This is when after treatment a collagen rich formation appears at the treatment area, in the shape of the treatment tool. Often this side effect can be treated in itself and the effect was first identified in a JAMA study in 2014. We are pleased to report that we have not experienced a patient with this side effect, but should it occur, CoolSculpting will pay for corrective medical care.  CoolSculpting take PAH very seriously and are continuously researching ways to reduce the risk of PAH.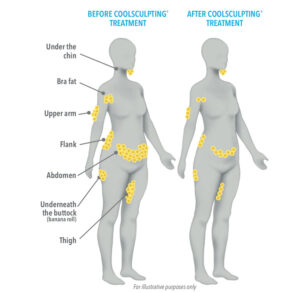 What can I realistically expect?
CoolSculpting® is an FDA approved and effective treatment to sculpt your body. Our patients see a 20-30% reduction in fat cells in the treated areas and we have great feedback on the results. We also have a before and after gallery on our CoolSculpting®  page. As with all treatments, there is a risk of side effects, but these are very minimal and our team at River Aesthetics will be more than happy to discuss these with you before your treatment.
To find out more click here or give us a call on 01202 024 060.