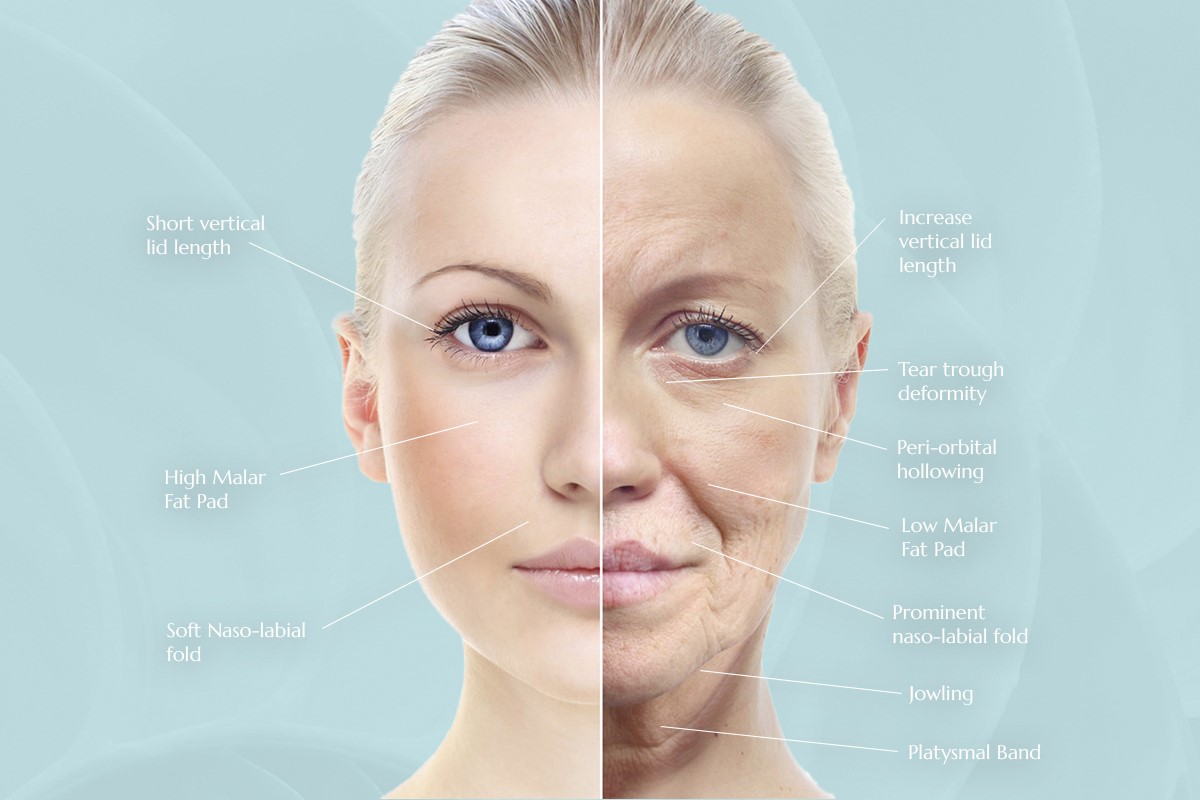 24 May

Timeline of facial ageing

Unfortunately, there is no stopping time – we are all going to age, however there is always opportunity to make 'tweakments' along the way to help us age well.  At River Aesthetics our ethos is to help you look well, but not 'done'.

To help you understand the right time to embark on tweakments we have created a timeline to explain what happens as you age:

Your 20s

You have finally emerged from the tumult of your teenage hormonal period, your skin is less acne prone and you have lost your facial baby fat – so your face is starting to look more female, less child.

When we are young collagen makes up 80 percent of our skin. Up until now your body has naturally produced collagen in abundance, but sadly production starts to decline at about age 25, and continues to decline by 1% each year.

This is when we experience our first early signs of ageing.  Our 'motor' wrinkles (lines which form from facial movement) begin to appear, most commonly around the eyes and forehead.

In your late 20s it is common to start to notice hollowing under the eye (we call this your 'tear trough') due to reduction in fat and thinner skin.

Your 30s

In your 30s your skin starts to look less radiant. Sun damage from UV exposure in your teens and 20s starts to show.  Areas of pigmentation 'brown spots' and broken capillaries 'thread veins' become more apparent.

Your facial expression lines deepen, and frown lines between your eyebrows start becoming noticeable.  Laugh lines around the nose and mouth are more pronounced, partly due to gravity. Your skin begins to lose volume and elasticity especially in your mid face (cheeks) and facial flatness starts to become more apparent. The upper lip also starts to decrease in thickness.

Your 40s

As you enter 40s, vertical lines begin to appear around your upper lip and if you smoke, they'll come faster and go deeper. Nasolabial lines 'laugh lines' develop – causing shadows to form in the triangular area between your nose and the corners of your mouth. This is due to loss of volume in your mid face (malar fat pad). This fat pad no longer supports your skin tissue causing skin to droop, and your retaining ligament prevents the tissue moving any further, creating a band.

Skin along the jawline also starts to sag, commonly referred to as jowls, creating an undefined, saggy appearance.  There can be a number of causes of jowling – ageing, genetics, weight loss and lifestyle – even looking down at computer all day!

Your 50s

During the first 5 years of the menopause the level of your collagen is thought to decrease by as much as 30 per cent.  Your skin starts to function less effectively and the skin barrier becomes compromised, resulting in increased water loss. As a result, your skin becomes very dry and fragile.  The hormone oestrogen has a protective role in wound healing, therefore injuries to the skin take longer to recover.  You may also become more prone to redness and rosacea.

You can also start to develop temple hollowing, which is a deeper area around the eyes, which may be accentuated by a very prominent brow bone caused by collagen volume loss.  Platysmal bands which are two strips of muscles that start at the base of your neck and run up the front left and right sides of your neck, all the way up to the jaw also become more prominent.

The prospect of witnessing changes to your face from our 20s, to yours 50s is not a happy one, however we are fortunate to live in an era when new technologies have made it easier to age well. There are a number of non-invasive treatments and/or injectables which can tackle these signs – not to turn back time or look younger, but to look well.  We have an armoury of options from thread lifts, collagen stimulating treatments including fillers, botulinum toxin, skin tightening with lasers and medical grade skin care.

To find out which is right for you at your life stage it is important to have an initial consultation with your practitioner before any treatment. We take an in depth medical history and devise a specific treatment plan specifically to tackle your needs, and to suit your lifestyle, so that you can look forward to the future and age gracefully.