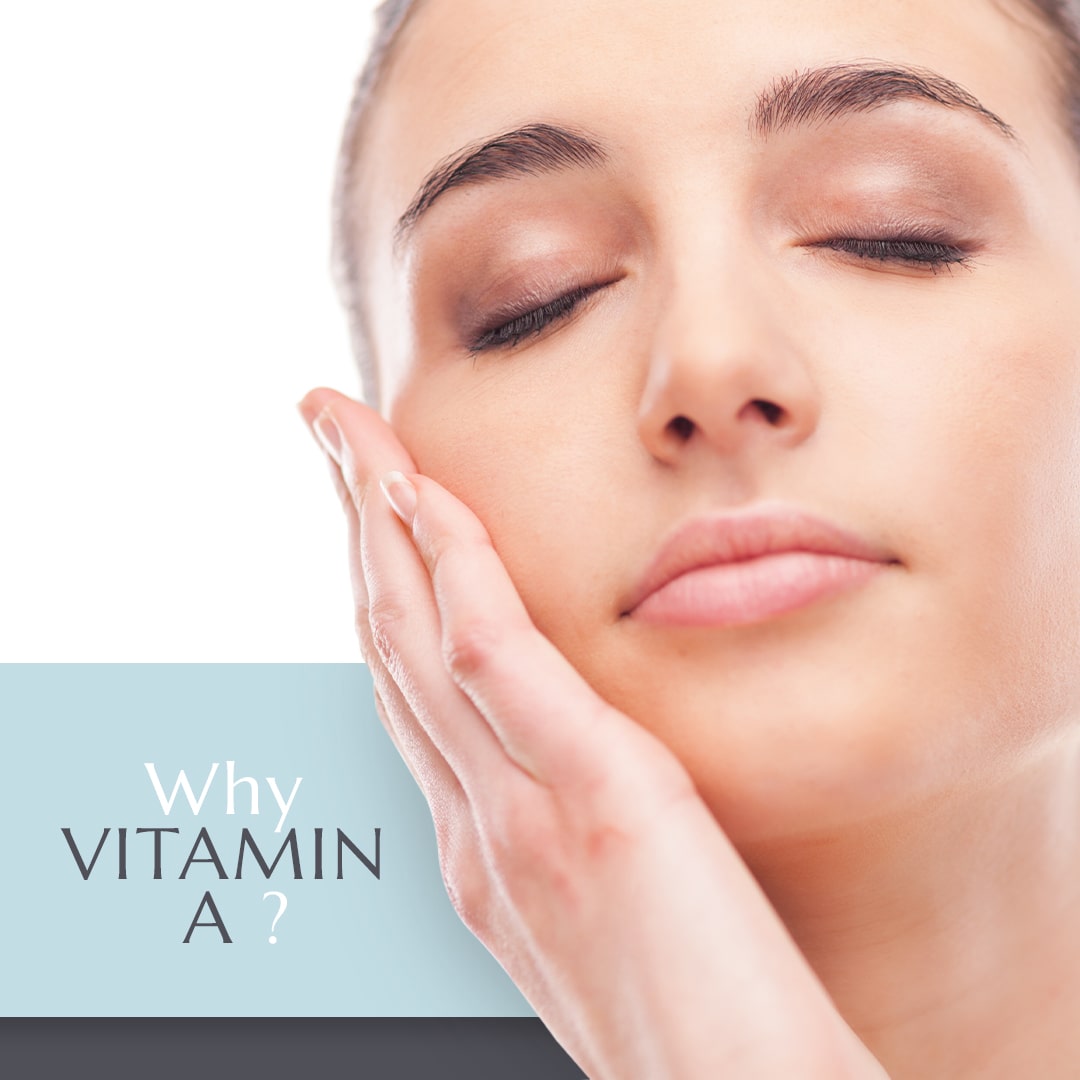 15 April

Learn About Vitamin A – The Powerhouse Behind All Anti-Ageing During the COVID-19 Crisis

Talking about skincare might seem frivolous when the world is currently struggling. But skincare is intrinsically linked to our self-care. It is the one thing that we, who are privileged enough to do our part by staying at home, can indulge in for the sake of our mental health.  

One behaviour that we all seem to be adopting while locked down is one which we wish we could all avoid – eating. It's not uncommon for us to also indulge in a glass of wine or two as a way to cope. Much like a long holiday, we find ourselves eating out of boredom, or because we're stressed, or just mindlessly eating for no reason at all.  This we know has a negative impact on our skin. 

We know many of you are already expressing concern about your skin and its lacklustre appearance. The lack of your normal regular facials with Gemma and Jessica in combination with running out of your usual products is no doubt not helping matters. 

Very soon we hope COVID-19 will be a sombre part of our past. We will emerge from our houses with a new appreciation for our social interactions and a new love for our friends and community. However, one thing we won't love is our congested skin which will have resulted from the lockdown and a poor diet. 
Introducing Our Secret Weapon
Below, we will discuss one of our hero products – retinols. This product is clinically proven to treat both acne and wrinkles because of its ability to stimulate cell turnover and reveal fresh, healthy skin cells. Vitamin A–based products in our experience are THE BEST anti-ageing ingredients on the market.  
The COVID-19 crisis is forcing us to stay home. But that doesn't mean you have to neglect your skin. We are currently scheduling virtual consultations with patients and in times of minimal human contact, we are loving the interactions with you.  
Unlike other solutions that simply mask the symptoms of skin ageing, these products, prescription or over the counter products actually fix the cause of ageing by preventing and reversing skin damage. That means retinol-treated skin doesn't just look younger—it actually IS younger, at a cellular level. Thanks to the fact that these chemicals boost cell turnover, they can smooth fine lines, even out skin tone and age spots, and improve skin elasticity for a more youthful glow.   
Vitamin A is one of the most effective treatments in increasing cellular turnover, exfoliating the top layers of our skin and boosting collagen production. It lessens the shedding of dead skin cells into our pores and decreases inflammation. It is known as the 'gold standard' in fighting acne and congested skin (blackheads/whiteheads) due to its antimicrobial, antioxidant and anti-inflammatory properties.  
It is also an incredible anti-ageing ingredient as it reduces fine lines wrinkles, pigmentation, large pores and improves skin texture.   
Retinoids vs Retinol vs Retin-A 
However, as a consumer how do you choose between retinoids, retinol and Retin-A? "Both retinol and retinoids are part of the vitamin A family that ultimately get converted into retinoic acid" explains Dr Manning.   
"The only type of retinoid that your skin can actually use is retinoic acid. All other forms of retinoids must be converted by skin enzymes into retinoic acid before the skin is able to use it. So, the term 'retinoid' is essentially a basic umbrella word for both over-the-counter retinols and prescription retinoids."  
The main difference between the two is that retinols work more gradually compared to retinoids due to their difference in molecular structure and how they are processed in the skin. Over-the-counter retinols are in ester forms such as retinyl palmitate, retinyl linoleate, retinaldehyde, propionic acid, or retinyl acetate. It takes more steps for these ester forms to be changed to the active retinoic acid. While retinoids and retinol do exactly the same thing, it typically takes longer to see results from retinols compared to retinoids.  
Additionally, OTC retinols are often combined with other ingredients, such as moisturizing ingredients, to minimise dryness/irritation, add antioxidants, or brighten the skin. This makes them more palatable to the skin, but it also means that some products may only have trace amounts of retinol in the bottle. Any type of retinoid you use can irritate your skin and cause side effects like redness and peeling. The stronger the product, the more likely you are to see those effects.  
If you're starting an OTC retinol regimen on your own, Dr Woodward recommends starting with applying just a pea-size amount of product twice a week to help your skin get accustomed to it. If you experience any irritation, reduce it down to once a week. Gemma Halliday, our lead skin practitioner, advises that less really is more when it comes to these creams. After cleansing and patting down your face at night, she advises to wait a few minutes to guarantee that your skin is totally dry — "Damp skin can interfere with how much retinol is absorbed, which can result in irritation," says Gemma. 
Next, squeeze a pea-size dab of cream into your palm. Using your fingers, smooth the retinol over your face. Start first with your forehead (the skin there is less sensitive, so it can take a stronger dose if you accidentally apply too much), then moving on to your nose, cheeks, and chin. After 20 minutes, smooth on your usual serums, making sure you avoid any acne products (a.k.a. anything that includes Benzoyl Peroxide or Salicylic Acid).  Why? Benzoyl Peroxide deactivates the retinoids and Salicylic Acid exacerbates the skin shedding, so will increase redness and soreness.   
For both retinol and prescription retinoids, we recommend that you only use them at night as sunlight deactivates retinoic acid.  
 Retin-A 
Retin-A is a prescription-only tretinoin cream.  This means it needs to be prescribed for you following a consultation with us. At present, we are unable to offer face to face consultations. But, we can offer skype consultations for this. Tretinoin is a form of retinoic acid, therefore, does not need to be broken down by the enzymes in your skin before it can be used. This means that they are approximately 100 times stronger than the average retinol cream you buy over the counter.    
This strength offers amazing and speedy results – diminished blemishes, reduction in wrinkles, boosted skin elasticity – but also some downtime. Retin-A can cause itching, scaling, burning, peeling, and redness when you first begin using the medication. Follow Dr Woodward's tips of slowly introducing into your skincare regimen and dialing up the usage. So, initially using every 3 days and slowly building up the frequency of application.  
Retinoids are incredibly effective for anti-ageing and can achieve a glowing complexion. However, it's important to take your skin concerns and lifestyle into consideration. The weather has been extremely kind to us these past few weeks so please remember that all retinoids increase your skin's sensitivity to the sun. To combat this, be sure to use SPF daily while using any retinoid treatment!  
Now is a perfect time to get your skin in check, so you can walk out of lockdown glowing.  We don't know how long we are going to be isolating for, so, if you would like further information on any of the contents of this blog, or you would like to book a virtual consultation with us we would love to hear from you.  
Don't forget, any of our clinic skincare products can be delivered directly to your home. 
Until then stay safe.