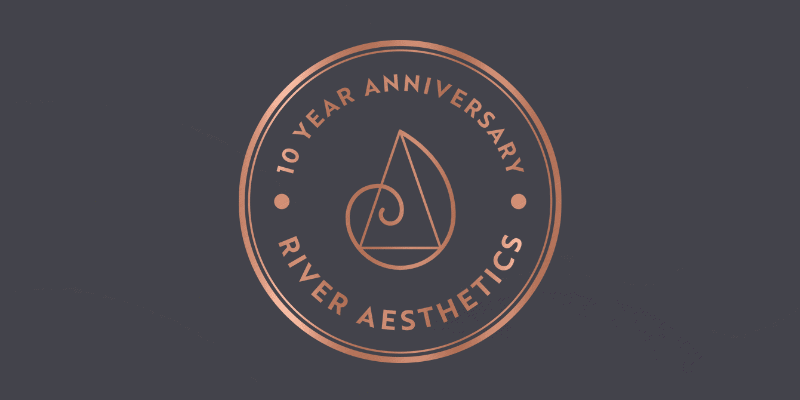 09 November

The Story of River Aesthetics

C E L E B R A T I N G  T E N  Y E A R S

As we celebrate the fabulous achievement of 10 years of River Aesthetics, we wanted to take a trip down memory lane. Looking back through our journey over the years and seeing just how far we have come.

T W O  T H O U S A N D  A N D  T W E L V E

The story began when Charlotte Woodward and Victoria Manning met one evening in June 2012. After a brace of expresso martini's and lots of talking, they quickly discovered that they had a lot in common. They were both GPs and had trained in aesthetic medicine. They also had the same ambition, to put their experience into the heart of the aesthetics industry, owning their own business.

Later that year, Dr Victoria Manning and Dr Charlotte Woodward took the leap and joined forces in pursuing their dream. Firstly, finding a premises to operate the newly formed clinic from and bringing their ambition to life through the brand River Aesthetics. In November 2012, the doctors opened the first River Aesthetics Clinic in Lymington, fresh faced and with big plans.

The doctors continued to work as GPs alongside working part time hours at River Aesthetics while they built up their client base. Their vision for the business was and has always been to create a well-respected, brand that clients could trust, with professional first-class treatments and service that always put patient needs first.

T W O  T H O U S A N D  A N D  T H I R T E E N

In 2013, a year into trading Dr Victoria Manning and Dr Charlotte Woodward became one of the first aesthetics practices to join and work alongside Save Face, the register of trusted and recommended practitioners. Testament to their promise to their clients. As word about the clinic grew, so did their client base.

T W O  T H O U S A N D  A N D  F O U R T E E N

Not resting on their laurels and with an appetite to remain at the forefront of aesthetic practice, in 2014 the dynamic duo enhanced the range of treatments provided and introduced River Infusions, a range of IV drips to offer to patients. The well attended launch party was held at Stanwells Hotel.

Firmly established by this point in the aesthetic industry, they became sought after attendees at high profile events, giving them the opportunity to meet A listers such as Davina McCall and senior professionals and leading suppliers in the aesthetic industry.

T W O  T H O U S A N D  A N D  F I F T E E N

In 2015, River Aesthetics became one of the first clinics to offer breast thread lifts and vaginal rejuvenation. Followed by the development of the signature RiverLIFT. This revolutionary and award-winning non-surgical treatment lifts and tightens the face and neck by combining Silhouette Soft ® threads, PDO threads, Ellanse ® collagen stimulating bio-stimulators and Hyaluronic acid based dermal fillers. A unique and effective combination pioneered by Charlotte and Victoria.

As the business continued to expand and demand from clients far and wide continued to grow, River Aesthetics were fast becoming recognised as international gold standard leaders in thread lifts, and the destination for collagen stimulation. It was now time to open a second clinic.

T W O  T H O U S A N D  A N D  S I X T E E N

In March 2016, River Aesthetics branched out with the opening of a brand-new clinic at 10 Harley St, London. It was here that they treated Meg Matthews with Silhouette Soft, which featured in The Sunday Times supplement in May of that year.

At the very top of their game, Charlotte and Victoria became trainers in PDO and Silhouette Soft, Ellanse and Desirial treatments. Their work with Silhouette Soft was quickly recognised and they were awarded the Sinclair Clinical Excellence award AND Star award, in addition to the best treatment award at the World Expert Meeting (WEM).

The award-winning team were on the radar of many aesthetic suppliers who wanted to work with them. They became trainers, KOLs and speakers for Sinclair pharma in 2016 and have worked very closely with the brand since. They were also invited to be guest speakers at The Brides Show.

T W O  T H O U S A N D  A N D  S E V E N T E E N

By 2017, the doctors had opened their third clinic in Canford Cliffs and became full time at River Aesthetics, finally giving up their roles as GPs. Here are a few photos from the Dorset clinic Grande opening.

The same year, River Aesthetics was highly commended at the prestigious Aesthetics Awards as 'Best New Clinic UK and Ireland' and featured heavily in the press. Coverage included the Tatler beauty and cosmetic surgery guide for treating Mary Killen, the Brides Cosmetic Beauty guide and Tatler, focusing on reconstructive vaginal surgery. They became regulars at high profile events, speaking at 'This Morning Live', CCR for Sinclair, a Coolsculpting/RNLI charity event, Brides cosmetic event and Bride's "Beauty Salon" reader's events to name just a few.

T W O  T H O U S A N D  A N D  E I G H T E E N

The high profile Doctors drew attention from celebrity clients, in 2018 treating household names Anthea Turner and Victoria Pendleton, again receiving national coverage for their work in the press.

Victoria and Charlotte were invited to speak at the World Expert Meeting, and their medical aesthetic services were introduced to the women's only health, wellbeing and lifestyle medical club Grace Belgravia.

The doctor's reputation as experts in their field continued to rise. Regularly approached to provide expert comment in several publications including:
The Sunday Times for treating Mary Greenwell (9 pros and cons of lower facelifts)
Tatler Beauty and Cosmetic surgery guide as one of the UKs super clinics.
The Editors list as one of top lower face fixers in Sunday Times.
The Sunday Times for breast thread lifts.
Aesthetic Journal on all things Threads.
T W O  T H O U S A N D  A N D  N I N E T E E N
2019 was another busy year for the doctors, working hard and achieving further recognition for their work in the field of aesthetics. More awards were scooped including winners of 'My face, My Body' for non-surgical makeovers and being finalists in 'Safety in Beauty' for 'Best aesthetic doctors and best patient journey'. They were featured in the Daily Mail for their breast thread lifts, Tatler's beauty cosmetic guide, the Telegraph business section and well as speaking at the Sinclair Masterclass and CCR.
If this wasn't enough, in 2019, Charlotte and Victoria launched the River Aesthetics' Academy, an award-winning aesthetic training academy for industry leading expert clinicians and qualified trainers. Sharing their skills, knowledge, and expertise with those looking to enhance their own training. The doctors also hosted a charity lunch in aid of the Pink Ribbon Foundation, raising £14,000. A charity the team actively still support today.
T W E N T Y  T W E N T Y
In 2020, the world was rocked with Covid. Despite this, the doctors successfully opened their beautiful flagship clinic in the heart of Bournemouth, the home of River Aesthetics in July, located in The Old Sorting Office. This is where you'll find them today. They were featured in the Daily Mail for treating Sarah Vine with their signature RIVERLIFT procedure, had an article in Dorset Living and were speakers at an Ellanse press event!
T W E N T Y  T W E N T Y  O N E
Safety has always been of the utmost importance to the whole team at River Aesthetics. In 2021 they became a 'Safety in Beauty' finalist for 'Best Aesthetic Doctors'. They also judged at the glitzy Aesthetics Awards in London and were speakers at both the Sinclair Masterclass and British College of Aesthetic Medicine conference. Beyond Beauty and the Daily Mail also featured the doctors who shared their skincare recommendations.
They even managed to squeeze in a fundraising charity walk from Lymington to Bournemouth Clinic for Pink Ribbon foundation and raised £1000!
T W E N T Y  T W E N T Y  T W O
Over the last year River Aesthetics has won awards for the 'Best Clinic for threads in UK', commended 'Best Clinic in South England' at the Aesthetic Awards and featured in the Tatler beauty and cosmetic surgery guide.
The River Aesthetics journey continues to go from strength to strength with no signs of slowing as 2022 comes to a close. Expanding their services with additional treatments, being the first to introduce Morpheus8 technology to Dorset and more recently introducing their new Visia Skin Analysis to the clinic. They've grown the team with expert Doctors and aestheticians and firmly held their position as leaders, delivering talks at high profile events such as the 'Silhouette Soft Expert Meeting' and the 'World Expert Meeting' in Barcelona 2022, where just recently Doctor Victoria Manning spoke over 3 days to an audience of 1200.
This year, the doctors have been listed in the Country and Town House list of 'Best Aesthetic Doctors', featured as 'Best Clinic' for collagen stimulation in the Tweakments guide, were covered in the Express which focused on what causes the immune system to attack hair follicles, and also featured in Hello Magazine, covering their natural filler results.
River Aesthetics as a brand, and the incredible Doctors continue to be at the forefront of aesthetic practice.
T W E N T Y  T W E N T Y  T H R E E
So, what's next for River Aesthetics as we enter 2023?  With this impressive journey to date, you can be sure that the team won't be slowing down. With big plans for the future and expanding into new areas, River Aesthetics continue to be the brand to watch!
A HUGE thank you to all our patients who have visited the clinic for treatments and continue to return to support and recommend us over the last ten years. Our honest and mindful, personalised approach is centered on putting you, our clients first and supporting you to be the best version of yourself through treatments tailored to your individual needs. We will continue to work hard to bring you the very latest cutting-edge technologies available in the industry, alongside our award-winning signature treatments to create natural-looking results. As a team we have a true passion for aesthetic medicine and continue to be the very best we can be.
We are immensely proud of our journey and thank you for sharing it with us. Here's a special thank you from us, and the team at River Aesthetics.
Here's to the next ten years!