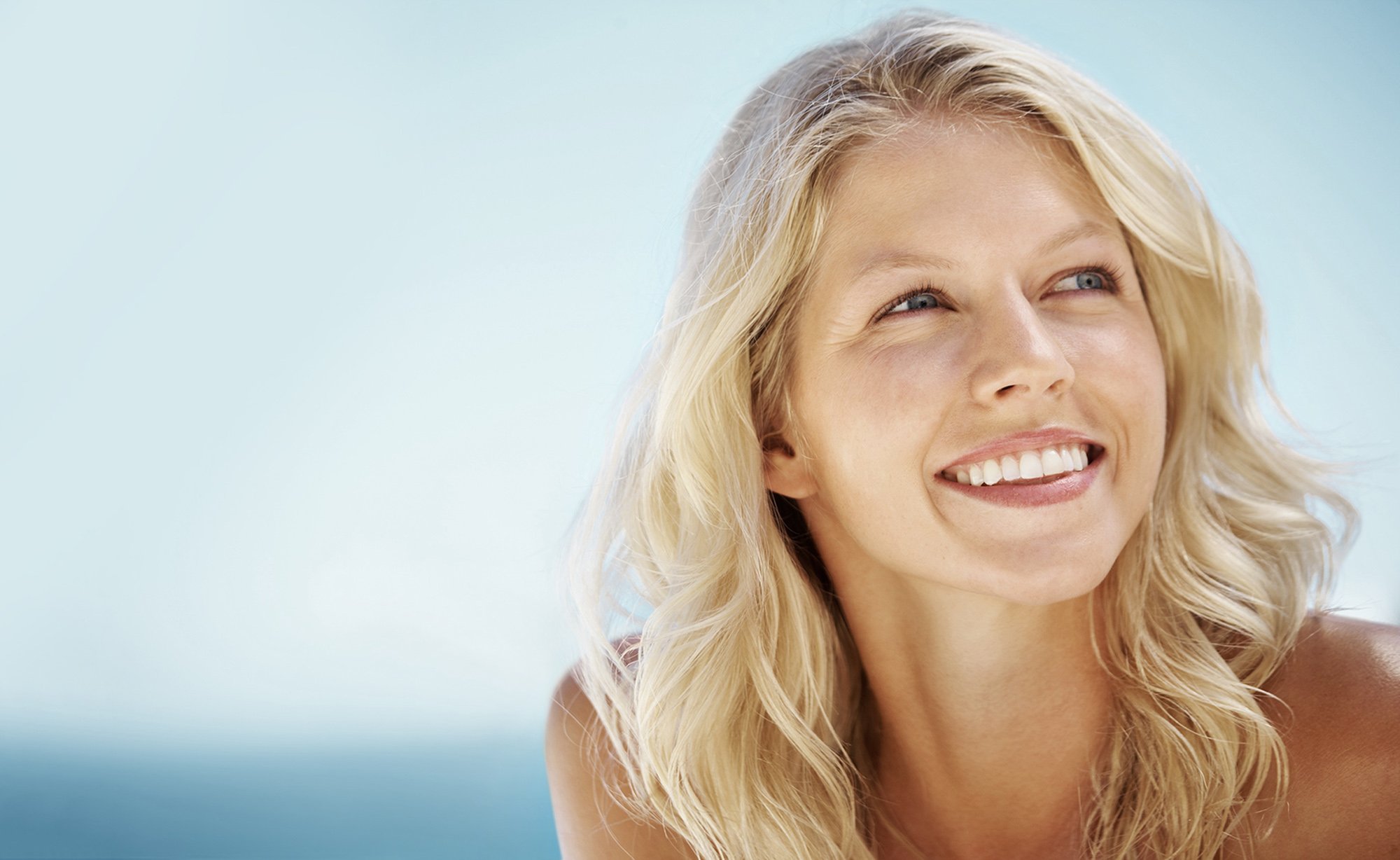 05 March

Two's A Company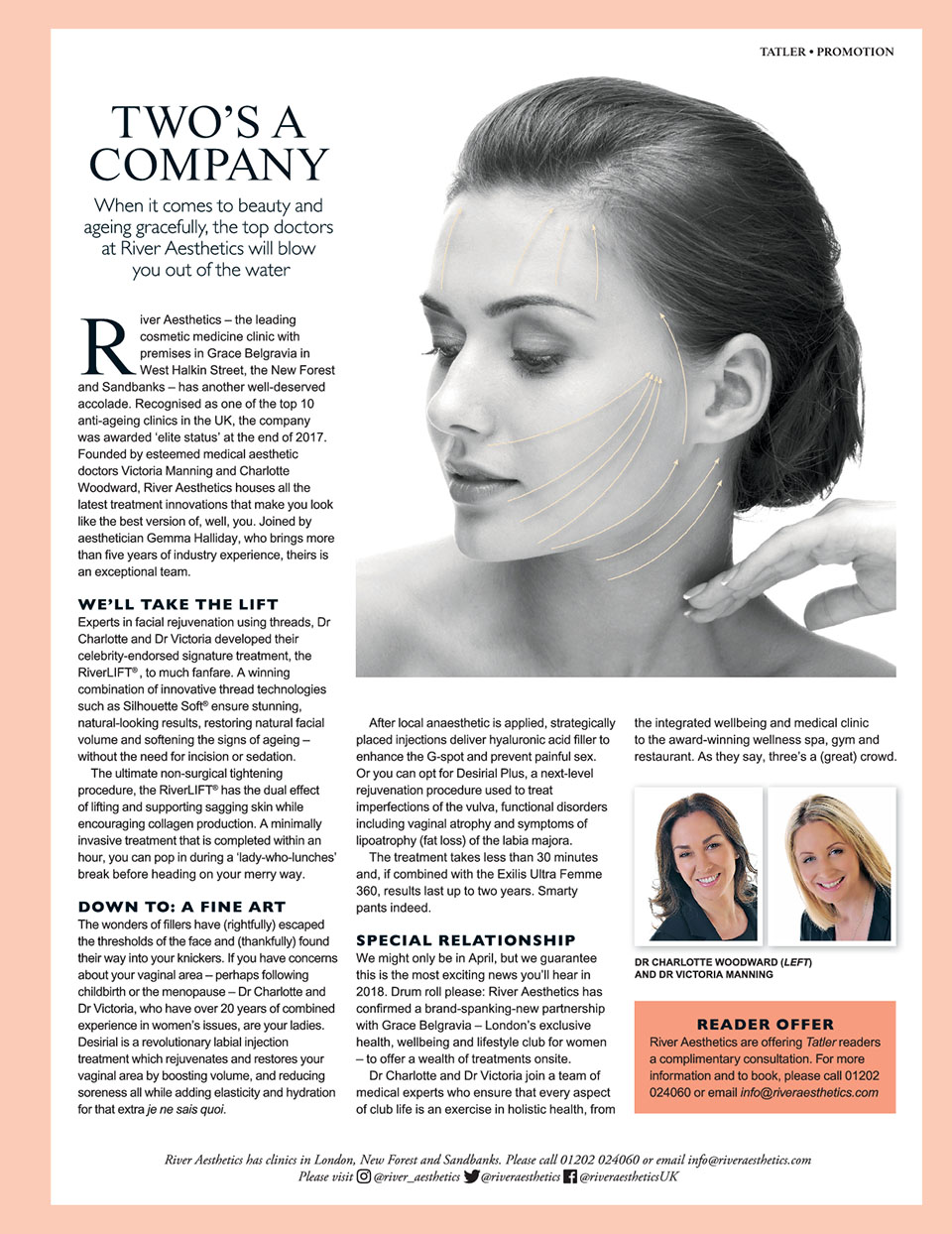 When it comes to beauty and ageing gracefully, the top doctors at River Aesthetics will blow you out of the water.
River Aesthetics – the leading cosmetic medicine clinic with premises in Grace Belgravia in West Halkin Street, the New Forest and Sandbanks – has another well-deserved accolade. Recognised as one of the top 10 anti-ageing clinics in the UK, the company was awarded 'elite status' at the end of 2017.
Founded by esteemed medical aesthetic doctors Victoria Manning and Charlotte Woodward, River Aesthetics houses all the latest treatment innovations that make you look like the best version of, well, you. Joined by aesthetician Gemma Halliday, who brings more than five years of industry experience, theirs is an exceptional team.
We'll take the lift
Experts in facial rejuvenation using threads, Dr Charlotte and Dr Victoria developed their celebrity-endorsed signature treatment, the RiverLIFT®, to much fanfare. A winning combination of innovative thread technologies such as Silhouette Soft® ensure stunning, natural-looking results, restoring natural facial volume and softening the signs of ageing – without the need for incision or sedation. The ultimate non-surgical tightening procedure, the RiverLIFT9 has the dual effect of lifting and supporting sagging skin while encouraging collagen production. A minimally invasive treatment that is completed within an hour, you can pop in during a 'lady-who-lunches' break before heading on your merry way.

Down to a fine art
The wonders of fillers have (rightfully) escaped the thresholds of the face and (thankfully) found their way into your knickers. If you have concerns about your vaginal area -perhaps following childbirth or the menopause -Dr Charlotte and Dr Victoria, who have over 20 years of combined experience in women's issues, are your ladies.
Desirial is a revolutionary labial injection treatment which rejuvenates and restores your vaginal area by boosting volume, and reducing soreness all while adding elasticity and hydration for that extra je ne sais quoi.
After local anaesthetic is applied, strategically placed injections deliver hyaluronic acid filler to enhance the G-spot and prevent painful sex. Or you can opt for Desirial Plus, a next-level rejuvenation procedure used to treat imperfections of the vulva, functional disorders including vaginal atrophy and symptoms of lipoatrophy (fat loss) of the labia majora. The treatment takes less than 30 minutes and, if combined with the Exilis Ultra Femme 360, results last up to two years. Smarty pants indeed.
Special relationship
We might only be in April, but we guarantee this is the most exciting news you'll hear in 2018. Drum roll please: River Aesthetics has confirmed a brand-spanking-new partnership with Grace Belgravia – London's exclusive health, wellbeing and lifestyle club for women – to offer a wealth of treatments onsite.
Dr Charlotte and Dr Victoria join a team of medical experts who ensure that every aspect of club life is an exercise in holistic health, from the integrated wellbeing and medical clinic to the award-winning wellness spa, gym and restaurant. As they say, three's a (great) crowd.