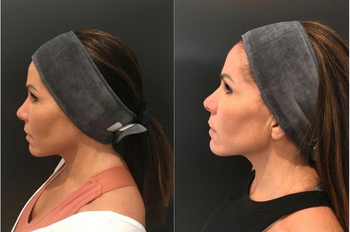 01 September

Our Patient Jenny Shares her Rejuvenating RiverLIFT Journey

The 'Rejuvenating RiverLIFT' combines the already well established and popular facial treatments: the Silhouette Soft Thread Lift (non-surgical face lift) and the Skin Revitalisation treatment to harness the body's own natural healing powers and improve skin laxity.

Combining these award-winning treatments offers patients a longer lasting, youthful appearance that harnesses the body's own natural healing powers and improve skin laxity. On their own we see amazing results from these treatments, combined we see outstanding results!
Jenny's Rejuvenating RiverLIFT Journey
As part of a trial, our patient Jenny took part in our Rejuvenating RiverLIFT, combining the Silhouette Soft Thread Lift and the Skin Revitalisation treatment. Jenny kindly documented each stage, to take us on her journey. Here's what Jenny had to say.
"
I recently took part in a trial with River Aesthetics that combined the Skin Revitalisation treatment and the Silhouette Soft thread lift, known as the 'Rejuvenating facelift'. 2 months in and WOW! I am so pleased with the results so far. My skin is improved, fine lines and wrinkles have gone and I generally feel more confident and fresher looking. I'm so glad I took part.The clinic is beautiful and the reception team so welcoming.The treatment itself carried out by Dr Victoria Manning and Dr Charlotte Woodward was as pain free as it could be. The Doctors explained every step and made sure I was informed throughout which I really appreciated. I knew what to expect afterwards and they have kept in touch since. They really are experts and amazing at what they do.I had never considered threads as an option before (I'm 41), but after researching and speaking to the Doctors, I'm so glad I made the decision and I'm so glad I went to River. They are miracle workers. The results are so natural which is what I wanted. Thank you to all of the River Team. I would highly recommend to anyone considering any kind of aesthetic treatment – they remove any nervous feeling and leave you feeling confident you've made the right decision. 5*s.
"
PART ONE: Jenny documents her Rejuvenating RiverLIFT journey and recovery.
PART TWO: Jenny continues to document her recovery from the Rejuvenating RiverLIFT, taking us through to 3 months post treatment. Here, we get to see her final before and after results (and we think she looks incredible!)
Jenny's Before and After Results