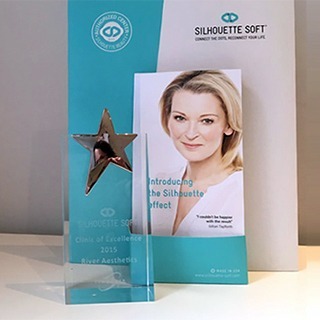 05 May

Silhouette Soft 'Clinic of Excellence' award for River Aesthetics
---
It has been a very exciting week for us here.
We were privileged to be invited to the Expert Silhouette Soft workshop at the Royal College of Medicine.
Listening and watching live demonstrations with the world experts in Silhouette Soft, we were shown how to achieve even better results with the product.
Top Star Award
Sinclair Pharma also launched it's Star Awards for doctors who carry out treatments with Silhouette Soft.
The initiative was to see its top-performing clinics being recognised as 'clinics of excellence'.
There are platinum, gold, silver and bronze levels, and the platinum winners were presented with a stunning glass trophy at  the special awards ceremony hosted by the company's CEO Chris Spooner.
I was delighted to be presented with the Top UK Star Award, alongside a well-known colleague and winner of The Apprentice, Dr Leah Totton.  I was rather overwhelmed!
---
River Aesthetics – a Clinic of Excellence
We are now able to use our award status to promote River Aesthetics as a Clinic of Excellence, which indicates our level experience with Silhouette Soft.
Our trophy is now on proud display in our waiting room to underline our pre-eminence to visiting patients.
The other exciting news is that I have been selected to join the Sinclair Training Team for Silhouette Soft.
This means that River Aesthetics will be training doctors nationally in both PDO threads led by Dr Charlotte, and Silhouette Soft by myself. I believe we are unique in being able to say this.
River Aesthetics has truly evolved into a Clinic of Excellence in the UK for non-surgical face lifts.
We are one of only five clinics in the UK to have been awarded this Elite Star Status, so you can be sure you are in safe hands. We are offering this superior treatment for soft tissue lifting of jowls, necks and brows.