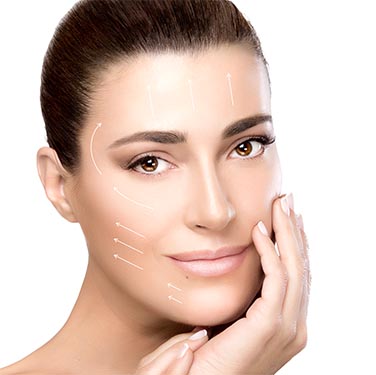 10 October

Full face rejuvenation with RiverLIFT
The RiverLIFT full face rejuvenation programme

Restoring your youthful appearance
Ageing causes a reduction in soft tissue volume in the face, resulting in – among other things – dark eye circles, reduced cheek volume, sunken temples and deep laugh lines.
This volume loss is due to reduced collagen and soft tissue.
Common areas that can result in volume loss are the skin, cheeks, laugh lines, jowl lines, temples, forehead, and the side of the face.
However, with the RiverLIFT Full Face Rejuvenation programme, we can help to restore youth to your face, using an effective combination treatment that has minimal risk and downtime.
Using various thread techniques alongside dermal fillers, this volume loss can be easily reversed, the soft tissues can be repositioned and you can look five or even ten years younger.
What is RiverLIFT?
The RiverLIFT full face rejuvenation programme is a specially-tailored procedure that redefines facial contours and induces collagen production. Each treatment is designed for you as an individual – no two treatments are the same.
The procedure is simple, non-invasive and takes less than 60 minutes.
With our programme, we aim to achieve a natural youthful appearance without surgery and with lasting results – usually up to 18 months.
Click here for more about our RiverLIFT treatments.
How does RiverLIFT work?
RiverLIFT targets the most common areas of the face that show the signs of ageing: the mid cheeks, temples, forehead, laugh lines, and jowl lines.
It reverses the effects of gravity with a subtle face lift, by
replenishing lost volume around the face
redefining the jaw line and reduced jowls
reducing laugh lines and lines around the mouth
increasing thickness and reduces sagging in the skin.
Is it painful?
The procedure uses a local anaesthetic, so it is very comfortable and has minimal pain.
What about side effects or downtime?
The injection may cause mild swelling or redness for a few hours.
Patients usually return to normal activities immediately after the procedure and will apply make up where needed.
We recommend that you avoid smoking, alcohol intake, and strenuous exercise for at least 48 hours after treatment.
Side effects are those similar to filler and Anti Wrinkle Injections: tiny injection marks, mild bruising and swelling might occur but are temporary.
How long does it last?
Results can last up to 18 months, depending on the type of filler or sutures used. The choice of filler depends on the area of the face that needs treating, and the patient – or doctor's – preferences.
Why use combination treatments?
Fillers can restore lost volume and stimulate collagen production.
Restylane Skinboosters, for example, help strengthen the skin and increase collagen production in the upper layers of skin.
Ellanse fillers are specially designed to increase collagen structure in the deep layers of skin. Over time, this results in replenished volume and longer-lasting, natural results. Sutures or threads carefully reposition the soft tissues to enable a soft, lifting effect.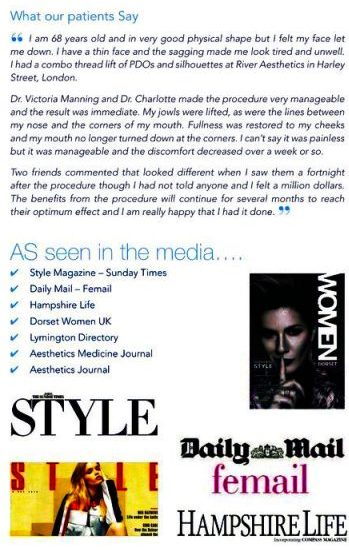 What our patients say
"I am 68 years old and in very good physical shape but I felt my face let me down. I have a thin face and the sagging made me look tired and unwell.
I had a combo thread lift of PDOs and Silhouettes at River Aesthetics in Harley Street, London.
My jowls were lifted, as were the lines between my nose and the corners of my mouth.
Fullness was restored to my cheeks and my mouth no longer turned down at the corners.
I can't say it was painless but it was manageable and the discomfort decreased over a week or so."
Why come to us?
At River Aesthetics, Dr Victoria Manning and Dr Charlotte Woodward have experience with various types and brands of fillers and sutures.
They have formulated a programme using combination treatments to give the best results for different concerns and areas of the face.
Both doctors are national trainers for Sinclair Pharma.
Reduce the signs of ageing in a beautiful and natural way with the RiverLIFT full face rejuvenation programme.
To book your free consultation, please call us on 01590 608480 and our reception team will look after you.