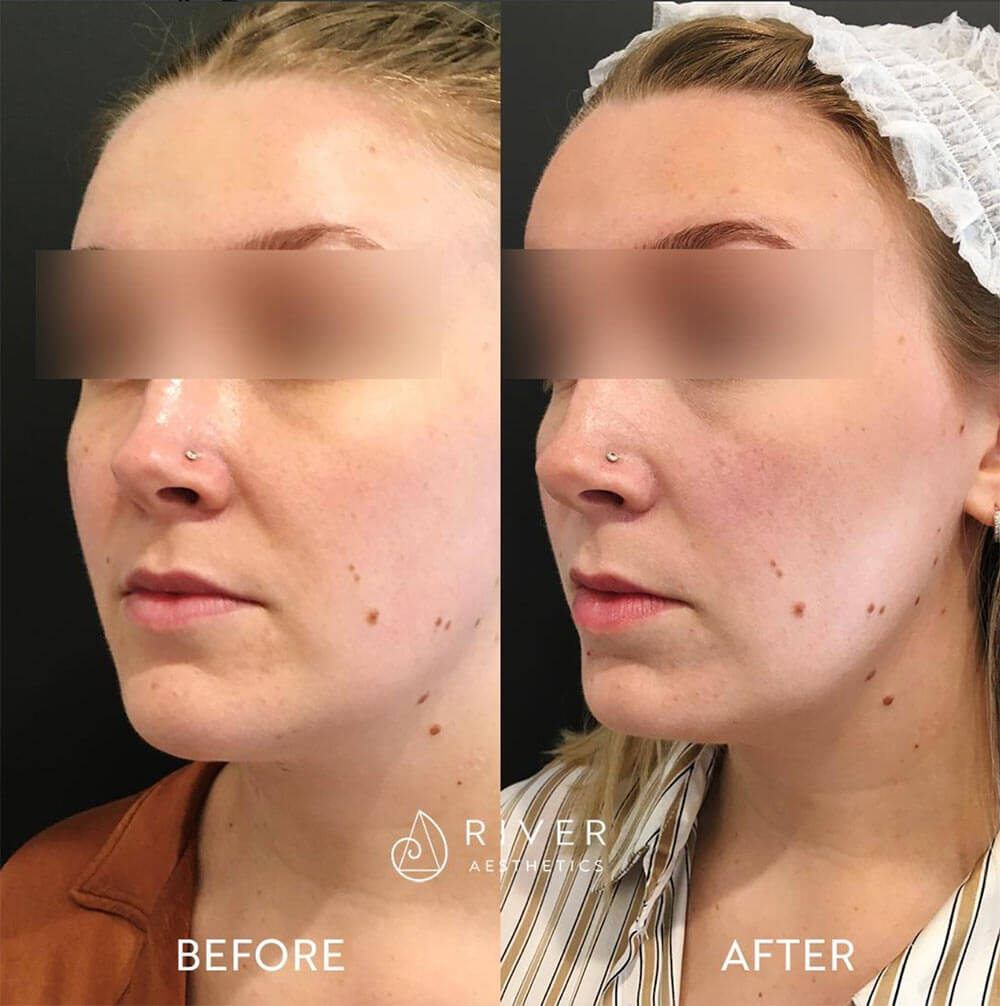 23 November

Chin Fillers: The Treatment That Can Redefine Your Face

A new treatment is rising in popularity thanks to its transformative results. A "chin job" or chin filler is a procedure that can balance the proportions of your face, define the jawline and make round faces look slimmer.

If you suffer from retrogenia, also known as weak chin, your receding chin slopes back towards your neck creating a bulge. This can impact your side profile and affect your self-confidence. This aesthetics-approved treatment is virtually painless and can bring harmony to your overall facial features after just one session.

So, how does this treatment work? Originally designed to fill in fine lines and wrinkles, fillers are now used by aesthetic doctors to sculpt and enhance your features. This procedure involves filler being injected into the chin, subtly changing the area for a more defined profile. "So many of our patients don't realise we can do this, they've hated their profile for so long and are amazed by the results. It is a life changing treatment for some of our patients," says Dr Charlotte Woodward, Clinical Director and co-founder of River Aesthetics.

River Aesthetics recommends the use of injectable hyaluronic acid based dermal fillers to perform this non-invasive chin augmentation. To achieve the aesthetically ideal looking face, the face shape should be approximately the same length in all three thirds of the face, where the width of the chin is roughly the same as the nose. Drs Manning and Woodward's patient-centric treatment starts with understanding your needs, face structure and shape. After a thorough consultation, the undetectable augmentation is performed carefully to deliver noticeably improved profile.

Muscles and the bone structure around the jawline change as you get older, which can lead to a double chin or appearance of jowls. The dermal fillers help achieve significant improvement without the pain, risk and lengthy recovery time associated with surgery and lasts for about 6 to 12 months, depending on the area injected. Filled with hyaluronic acid, which is naturally found in the body, the dermal filler will volumise, augment and hydrate the skin to help smooth out problem areas and tackles signs of ageing.

If you are looking for a renewed and rejuvenated look, River Aesthetics offers several different treatments including lip and mid-face filler to help create the all-important balance for facial harmony. Lip enhancement treatments help bring symmetry and volume while eradicating fine lines around the mouth that can develop due to age or smoking. While cheek fillers and cheekbone enhancement can rectify the loss of volume in the cheeks with hyaluronic acid dermal filler to create a youthful and fresh appearance.

"As we age, we lose fat, muscle, bone and collagen from our faces at a rate of about 1% a year from the age of 20. We can restore volume naturally with hyaluronic acid or collagen stimulating Ellansé® to achieve amazing results," explains Dr Victoria Manning, Clinical Director and co-founder of River Aesthetics.

Learn more about chin fillers and other facial rejuvenation treatments and how they can transform your face by booking your consultation today.